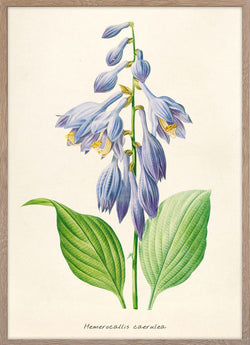 This print of Hermerocallis Caerulea is illustrated by Pierre-Joseph Redouté (1759–1840).
This print has been digitized and cleaned up to achieve the best result possible, without compromising the original artwork. 
Printed on 190 g. satin paper and hand trimmed in our studio in Denmark.
The print will be delivered protectively packed, without a frame.
If you would like your print to be framed, please choose a frame from our collection of frames and add to your order. We will frame the print for you prior to shipping. 
If you want the print in another size, please contact us at hello@paperministry.com
1. Delivery - When will I receive my items?
We ship the prints from our studio in Denmark. You can expect your order to arrive within a week in European countries. Longer delivery times should be expected for countries outside Europe. 
Your package might be delivered to a pickup shop or to your doorstep, depending on the delivery option you choose. Our standard delivery is to nearest pickup shop. You will be noticed by the shipping company when your package is ready for pickup. In the case you don't pick up your package within the allowed time, the package will be returned to us. In this case you will be responsible for paying for the return cost of the package. 
2. Exchange - Can I exchange my items?
If you wish to exchange your items, just return them back to us in their original condition (please be aware that you have to pay for the shipping cost). Thereafter you can place a new order for the items you want. We will transfer the money form your first order back to your account. Please be aware that it might take a couple of days before the money is transferred to your account.
3. Returns - Can I return my items?
Yes, you can return your items, if they are in their original condition. The items have to be delivered back to our studio (not a pickup shop). You are responsible for the items until they reach our studio. We are not covering the shipping cost for the return.
Our adress is:
Paper Ministry
Skous Kvarter 32,
7100 Vejle
Denmark
Please send us an e-mail to hello@paperministry.com before you return your item(s). 
Most of our images are from old books and archives, created several hundreds of years ago. We do our best to reproduce the images in the best resolution possible. As the images are created with old techniques sometimes the prints can be easily mistaken for being "pixelated". They are not.

Lithography, among other techniques, is a chemical process that leaves the image with a smeared expression. This expression is exactly what makes the prints beautiful, and out of the ordinary. 
Please, be aware that images from old books and archives are not vectorazed illustrations, and that a slight coarse and smeared expression can occur on the prints.